Folding Automatic Doors Operator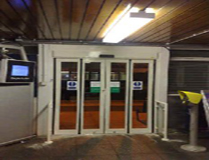 Our folding automatic doors are ideal for medium to high volume pedestrian access in many commercial environments. It opens up new possibilities anywhere space is at a premium. It provides a safer swing movement for one-way and two-way traffic than conventional swing doors. About 70% of our folding automatic doors are overall width remains free and clear for passage.
We also supply automatic bi folding doors which consists of narrow hinged door leaves that concertina together.
The basic door set comprises of a door leaf and frame and can be supplied in either single or double leaf. The doors can be fitted to either concertina inwards or outwards according to your requirements and the constraints of the surrounding environment.
ASN Doors - automatic bi folding doors can be supplied to replace old or damaged manual doors, or as a complete entrance system with the option of fixed side screens and transom / glazed panels.
The door leaf and frame are constructed from an aluminium profile with internal bracing to form a door set with inbuilt strength.
The door sets can be produced in a wide range of colours by polyester powder coating the frame to any standard RAL colour.
automatic bi folding doors operator which powers the door is contained within an overhead header unit. This unit contains the motor and microprocessor controller.
A multi-position control switch is also supplied to set the different modes of operation.
The most common door activation option is by passive inferred overhead sensors which will open the door on approach externally and internally, alternative activation is available.
Standard safety features of our automatic bi folding doors include double safety beams, which will hold open the door if the beam is broken, and automatic reverse on obstruction. The system is also made to be manually pushed open in an emergency should the mains power fail.
View our other fantastic automaitc doors such as automatic sliding doors and automatic swing doors - click on links to find out more information.
Benefits of Folding Automatic Doors
Silent
Reliable
Aid Environmental Control
Space saving
ntegrates with a wide range of accessories