THE DISABILITY DISCRIMINATION ACT
First introduced in 1996 and amended in 2004, the Disability Discrimination Act (DDA) aims to end prejudice against the less able. It makes it unlawful for 'service providers' (anyone that provides a service to the public) to treat someone less favourably because of a disability.
The DDA requires service providers (e.g. shops, libraries, cinemas etc) and all workplaces to make reasonable adjustments to overcome physical features, which obstruct the less able. These include anything arising from a building's design or construction, fixtures, fittings, equipment, or materials.
To overcome a physical feature means to either remove it, alter it so that it no longer has an effect, provide an alternative access route, or make services available to the less able in another way.
The law has been designed so that you only have to make reasonable changes, but if you fail to do what is reasonable, a disabled person could take legal action against you for treating them unfairly.
If your organisation is not accessible to disabled people, you could be missing out on a lot of potential customers.
Extract from Part M of the building regulations
Doors to accessible entrances
Design considerations
2.8 Doors to the principal, or alternative accessible, entrance should be accessible to all, particularly wheelchair users and people with limited physical dexterity Entrance doors may be manually operated without powered assistance, or power operated under manual or automatic control. Entrance doors should be capable of being held closed when not in use.
2.9 A non-powered manually operated entrance door, fitted with a self-closing device capable of closing the door against wind forces and the resistance of draught seals is unlikely to be openable by many people, particularly those who are wheelchair users or who have limited strength.
2.10 A powered door opening and closing system, either manually controlled or automatically operated by sensors, is the most satisfactory solution for most people. An automatic sliding door arrangement is particularly beneficial as it avoids the risks associated with automatic swing doors and its use can make it possible to reduce the length of any entrance lobby.
2.11 Once open, all doors to accessible entrances should be wide enough to allow unrestricted passage for a variety of users, including wheelchair users, people carrying luggage, people with assistance dogs, and parents with pushchairs and small children. It should be noted that double buggies are wider than wheelchairs and that, where relevant to the building type, this should be borne in mind when determining an appropriate effective clear width for an entrance door. There may be circumstances in existing buildings where it is not practicable or cost-effective to adopt the preferred effective clear widths for new buildings. In such cases, the argument for adopting the minimum dimensions for existing buildings should be made in the Access Statement.
2.12 People should be able to see other people approaching from the opposite direction, thereby allowing sufficient reaction time for both parties to avoid a collision. Any exceptions for reasons of privacy or security should be argued in the Access Statement.
Provisions
2.13 Doors to accessible entrances will satisfy Requirement M1 or M2 if:
a. where required to be self-closing, a power-operated door opening and closing system is used when through calculation and experience it appears that it will not be possible otherwise for a person to open the door using a force no greater than 20N at the leading edge;
b. the effective clear width through a single leaf door, or one leaf of a double leaf door, is in accordance with Table 2, and the rules for measurement are in accordance with Diagram 9;
c. unless it can be argued otherwise in the Access Statement, e.g. for reasons of security, door leaves and side panels wider than 450mm have vision panels towards the leading edge of the door whose vertical dimensions include at least the minimum zone, or zones, of visibility between 500mm and 1500mm from the floor, if necessary interrupted between 800mm and 1150mm above the floor, e.g. to accommodate an intermediate horizontal rail (see Diagram 9).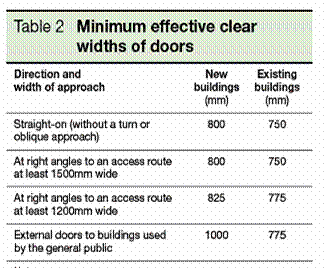 Note:
The effective clear width is the width of the opening measured at right angles to the wall in which the door is situated from the outside of the door stop on the door closing side to any obstruction on the hinge side, whether this be projecting door opening furniture, a weather board, the door or the door stop (see Diagram 9). For specific guidance on the effective clear widths of doors in sports accommodation, refer to 'Access for Disabled People'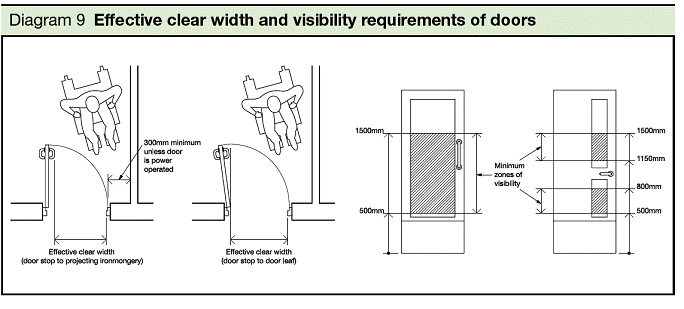 Manually operated non-powered entrance doors
Design considerations
2.14 Self-closing devices on manually operated non-powered swing doors disadvantage many people who have limited upper body strength, are pushing prams or are carrying heavy objects. 2.15 A space alongside the leading edge of a door should be provided to enable a wheelchair user to reach and grip the door handle, then open the door without releasing hold on the handle and without the footrest colliding with the return wall. 2.16 Door furniture on manually operated non-powered doors should be easy to operate by people with limited manual dexterity, and be readily apparent against the background of the door.
Provisions
2.17 Manually operated non-powered entrance doors will satisfy Requirement M1 or M2 if: a. the opening force at the leading edge of the door is no greater than 20N; b. there is an unobstructed space of at least 300mm on the pull side of the door between the leading edge of the door and any return wall, unless the door is a powered entrance door (see Diagram 9); c. where fitted with a latch, the door opening furniture can be operated with one hand using a closed fist, e.g. a lever handle; d. all door opening furniture contrasts visually with the surface of the door and is not cold to the touch.
Powered entrance doors
Design considerations
2.18 Activation (e.g. motion sensors and push buttons), safety features and the time-lapse allowed for entry and exit through powered door systems should be carefully considered to suit the needs of people who cannot react quickly.
2.19 Manual controls for powered entrance doors should be clearly distinguishable against the background and not located so that a person, having used the control, needs to move to avoid contact with the door as it opens.
2.20 Revolving doors are not considered accessible. They create particular difficulties, and risk of injury, for people with assistance dogs, people with visual impairment or mobility problems and for parents with children and/or pushchairs. If a revolving door is used, an entrance door complying with 2.17 or 2.21 should be provided immediately adjacent to it and signed to show that it is accessible.
Provisions
2.21 Powered entrance doors will satisfy Requirement M1 or M2 if:
a. they have a sliding, swinging or folding action controlled:
– manually by a push pad, card swipe, coded entry or remote control, or
– automatically by a motion sensor or other proximity sensor, e.g. a contact mat;
b. when installed, automatic sensors are set so that automatically operated doors open early enough, and stay open long enough, to permit safe entry and exit;
c. when they are swing doors that open towards people approaching the doors, visual and audible warnings are provided to warn people of their automatic operation when both opening and shutting;
d. they incorporate a safety stop that is activated if the doors begin to close when a person is passing through;
e. they revert to manual control or fail safe in the open position in the event of a power failure;
f. when open, they do not project into any adjacent access route;
g. any manual controls for powered door systems are located between 750mm and 1000mm above floor level, operable with a closed fist and, when on the opening side of the door, are set back 1400mm from the leading edge of the door when fully open and contrast visually with the background against which they are seen.
Glass entrance doors and glazed screens
Note: Where there appears to be a conflict between the guidance in Part M and Part N, Part M takes precedence, see the Notes to the Requirements.
Design considerations
2.22 People with visual impairment should be in no doubt as to the location of glass entrance doors, especially when they are within a glazed screen. The choice of a different style of manifestation for the door and the glazed screen can help to differentiate between them.
2.23 The presence of the door should be apparent not only when it is shut but also when it is open. Where it can be held open, steps should be taken to avoid people being harmed by walking into the door.
Provisions
2.24 Glass entrance doors and glazed screens will satisfy Requirement M1 or M2 if:
a. they are clearly defined with manifestation on the glass at two levels, 850 to 1000mm and 1400 to 1600mm above the floor, contrasting visually with the background seen through the glass (both from inside and outside) in all lighting conditions;
b. manifestation takes the form of a logo or sign at least 150mm high (repeated if on a glazed screen), or a decorative feature such as broken lines or continuous bands, at least 50mm high;
c. glazed entrance doors, where adjacent to, or forming part of, a glazed screen, are clearly differentiated from it by the provision of a high-contrast strip at the top and on both sides;
d. glass entrance doors, where capable of being held open, are protected by guarding to prevent the leading edge constituting a hazard.